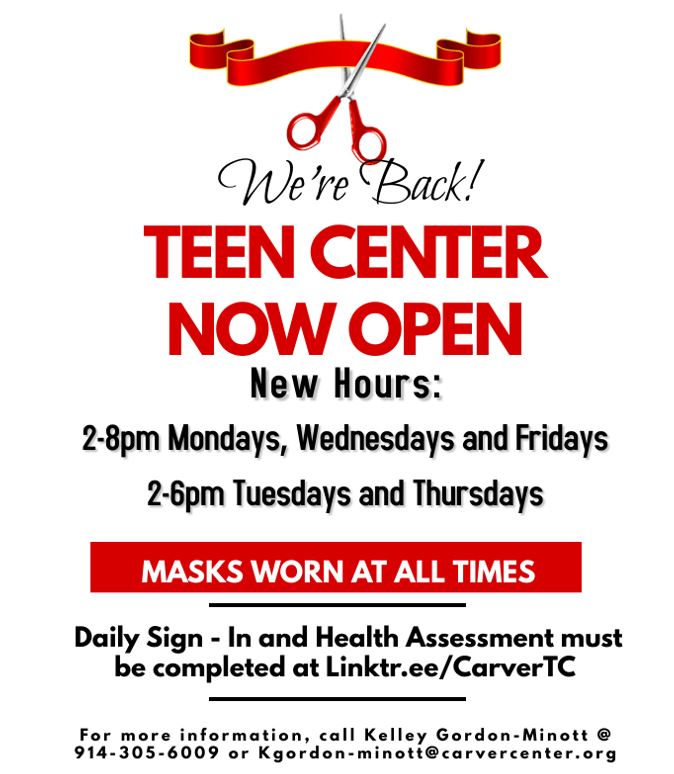 Carver Center's Teen Center provides a safe and positive environment where teens can spend their free time developing new skills, finding support for life challenges, and preparing for their future. Teens are able to form lasting friendships, participate in recreational activities, attend college tours, and take field trips. The center is fully equipped with computers, test prep materials, recreation tables, a flat screen TV along with game consoles, fitness spaces, a music studio, and a STEAM makerspace.
There is NO FEE to join the Teen Center. | Members must be 13 and in grades 8-12.
All Teen Center information including Daily Reservations, Daily Health Assessment, Daily Sign-In Sheet, Teen Center application and related links on Linktree: https://linktr.ee/CarverTC
Reservation and Health Assessment MUST be completed.
COVID Protocols: completed mandatory daily health assessment, masks worn at all times, reduced number of participants in TC spaces, social distancing enforced
Each area reservation time is 1 hour and 30 minutes
GENERAL TEEN CENTER INFORMATION
Monday, Wednesday, Friday | 2:00 – 8:00pm
Thursday | 2:00 – 6:00pm
Teens will have access to the Teen Center Lounge & Loft areas during these hours
GYM/RECREATIONAL ACTIVITIES
Monday – Friday | 3:00 – 6:00pm

STUDY HALL SESSIONS (including tutoring & homework assistance)
Monday – Thursday | 3:30 – 5:30pm | Tech Lab
Designated space to do homework or group projects. Tutoring will be available during specific days/times or upon request.
Questions? Contact Kelley Gordon-Minott at (914) 305-6044 or by email at kgordon-minott@carvercenter.org