Carver's 75th Anniversary Gala
Please join us in celebrating our legacy and presenting the Sister Rosemary Sheehan Service Award!
Saturday, April 21, 2018
7:00 p.m. – 11:00 p.m.
Greenwich Hyatt Regency
1800 East Putnam Avenue
Old Greenwich, CT 06870
* Cocktail Attire
Live Music by Naked Soul
Gala Leadership
Gala Chairs
Sonia Alcantarilla and Marcelo Gigliani
Christy and Tom Murphy
Jennifer and Jonathan Prather
Gala Committee
Alicia and Hunter Baldwin
Clare and Dave Butler
Heather Cady and Michael Flynn
Maureen and Victor Gomez
Nina and Craig Henderson
Lauren and Michael Kenny
Karen and Victor Kiarsis
Lori and Rob Kost
Sara and Paul Leand
Rebecca May and Fernando Rivas
Gabby and Don McCree
Susan and Patrick McGovern
Blair and Edouard Metrailler
Bets and Rod Miller
Elizabeth & Grant Moyer
Lisa and Paul Murphy
Nan and Tim O'Neill
Gina and Frank Nocco
Jennifer and Mark Pearlman
Cintia and Mario Pierry
Joelle and Jonathan Resnick
Sarah and Sean Reynolds
Mercedes and Patrick Riley
Maida and Jack Robinson
Devon and Michael Silberstein
Karen and Paul Simons
Julie and John Souza
Claire and Rafael Steinberg
Lisa and Sean Wallace
About the Sister Sheehan Service Award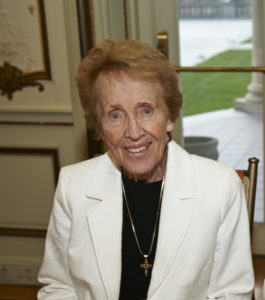 Carver Center is establishing the Sister Rosemary Sheehan Award to honor her memory and service to the organization. The Sister Rosemary Sheehan Award will be bestowed upon Carver Center Volunteers who exemplify Sister Sheehan's magnanimous spirit and dedication to enriching our community members' lives.
Sister Rosemary Sheehan was a Carver Center Lifetime Board Member who passed away in June 2017. Sister Sheehan was a beloved Carver volunteer and friend for over 50 years. Her tireless energy and dedication to the children of Carver made our community an immeasurably better place.
We want to honor individuals for their sustaining contributions and highlight how their outstanding service is woven into Carver's legacy and mission.
The inaugural service award will be presented April 21, 2018 at Carver Center's 75th Anniversary Gala. Congratulations to the following honorees:
Calvine Dunnan, Former Board Member & Community Leader
Dinah Howland, Former Board Member & Community Leader
Irene Waddill, Former Board Member & Community Leader
Contributions and Journal Ads are deductible as provided by law.
Regretfully, payments and contributions are non-refundable.