Carver Market
UPDATE: NOVEMBER 18, 2020
Carver Center is working with Caritas PC to provide home delivery of meals and groceries to people who are homebound. 
Anyone interested in receiving food via home delivery on SATURDAYS should call 914-305-3967.
Leave a voicemail in English or Spanish and someone will call back to confirm.
Deliveries are made on SATURDAYS ONLY.
There will be no deliveries on Saturday, November 28.
~~~~~~~~~~~~~~~~~~~~~~~~~~~~~~~~~~~~~~~~~~~~~~~~~~~~~~~~~~~~~~~
The Carver Market is open on Mondays, Wednesdays and Fridays, beginning at 1:00pm and stays open as supplies last.  We are providing individual "meals to go" at each weekday distribution.
We are following all health and safety standards and the most up-to-date CDC guidelines. Our staff is using PPE (Personal Protective Equipment), including masks and gloves. Clients follow regulatory spacing guidelines— standing apart more than six feet and must wear masks!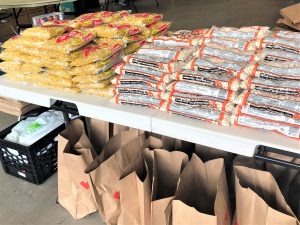 According to Census statistics, approximately 16% of youth (under 18) and 11% of seniors (65 and older) are living below the poverty line in Port Chester
We formed the Port Chester Food Network with our community partners to address the food crisis. A strategic plan was created that optimized each organization's strengths and resources s without duplicating critical resources and services.  Caritas of Port Chester is supplying pre-packaged meals to Carver for distribution that they are sourcing from local businesses and The Salvation Army of Port Chester is delivering food to our home bound seniors who are not capable of accessing distribution locations.
Our Market is also stocked through the generosity and kindness of our supporters including discounted grocery programs, community gardens, individual donors, corporate donations, community food drives and various non-profit partners.
Carver Market distributed emergency food relief to 
38,751
individuals in
10,396
households from March through October.
At the present time, we are accepting individual donations of food and personal items, such as diapers.  Please see the attached Carver Market Wish List. Email our Front Desk team at fdesk@carvercenter.org for more information and to schedule.
The Carver Market continues to be an important and vital resource to Port Chester.  We will continue to look for ways to increase our capacity to be able supplement our community's need for food in the upcoming months when new challenges will be faced as the weather changes.  Our families will potentially need to make critical life decisions regarding having enough food to feed their families OR being able to pay their rents OR having the monies needed to heat their homes.