CAMP CARVER IS BACK!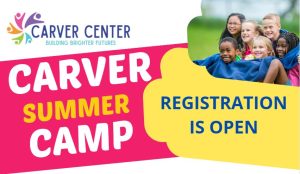 CAMP DATES
Wednesday, July 5 – Friday, August 18
6-week session – $900
Monday – Friday | 8:00am – 3:00pm
After care is available from 3:00 – 5:00pm. (Additional cost – $150)
REGISTRATION IS OPEN | LIMITED SPOTS
(Completed registration packets will be accepted with $300 deposit.)
Mondays – 10:00am – 5:00pm
Wednesdays – 12:00pm – 5:00pm
Please take note:
APPLICATIONS WILL NOT BE ACCEPTED OUTSIDE OF REGISTRATION TIMES AND INCOMPLETE APPLICATIONS WILL NOT BE ACCEPTED.
MUST SUBMIT COPY OF PHYSICAL AND IMMUNIZATION RECORDS AT TIME OF REGISTRATION.
One registration packet is required for each child.
June 9 – All balances must be paid in full
June 26 – Parent Orientation at Carver | 6:00pm – 7:00pm
Fun and Creative Activities
Camp T-Shirt
Events & Themed Days
Camper Talent Show
Performances
Weekly Swimming
Arts & Crafts
Group Games
Performing Arts, Music & Dance
Field Trips
BBQs, Waterplay, and much, much more!
For more information, please call 914-305-6009