Middle School CAP Spring Exhibition
This semester in Middle School CAP the theme was STEAM. STEAM stands for Science, Technology, Engineering, Art, and Mathematics. All of the innovative projects that were displayed at exhibition embody the excitement our students have to be creators!
We wanted to take this time to share some of the projects that the Middle School Students created and displayed at exhibition on Thursday, May 17th, 2018!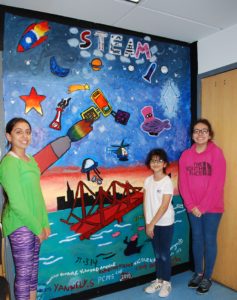 Mural: The students of CAP had a desire to make Carver Center a more beautiful place, so they designed a mural. They knew out theme for the semester was STEAM and embodied that in their amazing artwork. Before beginning the mural they had to create a proposal to present to the CEO and CLO of carver center in order to get approval. You will find the fabulous final mural on our Carver walls outside of the Tech Lab!
Website Design: The CAP tech experts were able to show off their skills through Google Websites. They first designed websites about one of their passions including soccer and jokes. They then moved on to using their skills to create websites for some of our other groups. The used graphic design and journalistic skills to create amazing websites.
Here is a link to the main website page. When navigating this page you will fins links to other websites designed by the students about their own personal topics as well as the other MS CAP Groups: https://sites.google.com/view/mrgcarversites/home
TED Talks: Two of our 8th grade students took on the task of creating their own TED Talks. Our students landed upon the topics of the Misconception of Indian Culture and Cyber bullying. Watch as they eloquently discuss topics that are so important to them. Here is a link to watch the student TED talks: https://www.youtube.com/watch?v=LFKUVWL9aiw
Music Production: This semester our students decided to pursue their passion of music by creating and recording their own song. The utilized the Carver Center music studio and learned how to use all of the different equipment. The students wanted the full music star experience so they then created a music video!
Science of Food: Not only did out students learn how to make delicious food they also learned the chemistry behind it! They learned all about fermentation through brining pickles, they had to figure out boiling point to make rock candy, and they even tried to utilize gelatin to create a solution for marshmallows. Enjoy some pictures of their scientific discovery of the fermentation process of Sourdough bread!