FEMA ANNOUNCEMENT
Mobile Disaster Recovery Centers will be in Westchester and Rockland counties Oct. 19-30, to help survivors of Hurricane Ida apply for FEMA disaster assistance. Survivors may visit the mobile units and meet in person with FEMA staff and representatives of other federal and state agencies. They can also get help uploading documents. Representatives from the U.S. Small Business Administration will also be available to explain how to apply for low-interest disaster loans for businesses, private nonprofits, homeowners and renters. For more information: fema.gov/disaster/4615 | For a Disaster Recovery Center nearest you: fema.gov/drc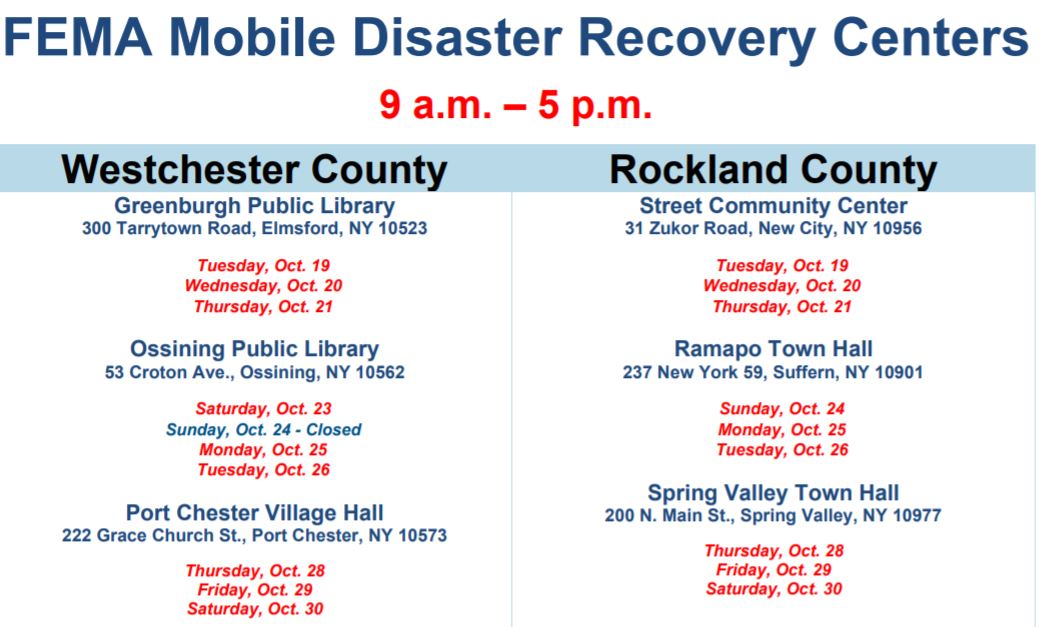 ~~~~~~~~~~~~~~~~~~~~~~~~~~~~~~~~~~~~~~~~~~~~~~~~~~~~~~~~~~~~~~~~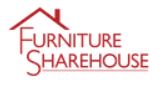 Have you been personally affected by the recent storm?
Do you need furniture? beds? mattresses?
Are you going through hard times?
Do you or anybody in your family need clothing?
Carver Center can help you.
We are partnering with The Furniture Sharehouse and The Sharing Shelf
to get you what you need, now!
Please contact Mike Williams, mwilliams@carvercenter.org or our
Front Desk staff at 914-305-6009 for information about the guidelines and the application process.

~~~~~~~~~~~~~~~~~~~~~~~~~~~~~~~~~~~~~~~~~~~~~~~~~~~~~~~~~~~~~~~~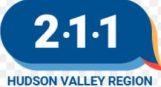 When you need help Hudson Valley 211 Helpline is here to assist 24/7.
211 can connect you with information and access to:
Food Pantries, Housing, Abuse, Childcare, Senior Services, Veterans, Health and Mental, Youth Programs, Govt. Services, Job Assistance,
Substance Abuse and More…
Call 211 | Visit 211hudsonvalley.org | Text your zip code to 898211
Call specialists are available 24-hours a day, 7-days a week, 365 days a year with translation services in more than 200 languages.

~~~~~~~~~~~~~~~~~~~~~~~~~~~~~~~~~~~~~~~~~~~~~~~~~~~~~~~~~~~~~~~~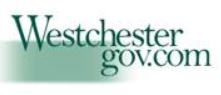 Westchester County Covid Information

All New Yorkers 12 years of age and older are eligible for vaccination. Go to Westchester County Health Dept. to locate vaccine sites and to arrange for homebound vaccination or transportation assistance.
A new dedicated booster website has also launched to help New Yorkers get their shot. Visit NY.gov/Boosters for more information.
Area Pop Up Vaccine Clinics:
October 20, 2021 from 2:30 pm – 5:30 pm | White Plains High School, Library, 550 North Street, White Plains, NY 10605
October 22, 2021 from 2:30 pm – 5:30 pm | Highlands School, Middle School Gym, 128 Grandview Avenue, White Plains, NY 10605
October 27, 2021 from 3:30 pm – 6:30 pm | Columbus Elementary School, Gym, 275 Washington Ave, New Rochelle, NY 10801
November 13, 2021 from 9:00 am – 12:00 pm | Rye High/Middle School, Middle School Gym, 3 Parsons St. Rye, NY 10580
Ongoing Vaccine Clinics:

White Plains Vaccination Clinic
134 Court St., White Plains
Fridays from 10-1pm
Walk-ins accepted; offers Pfizer
Westchester County Department of Health will be holding Pfizer vaccine booster clinics, by appointment only, every Wednesday and Thursday, 9:00 am to 12:00 pm, at 134 Court Street in White Plains. To be eligible to receive a Pfizer booster dose, you must have completed your original Pfizer vaccine series at least six months ago and you must fall into one of the following categories: