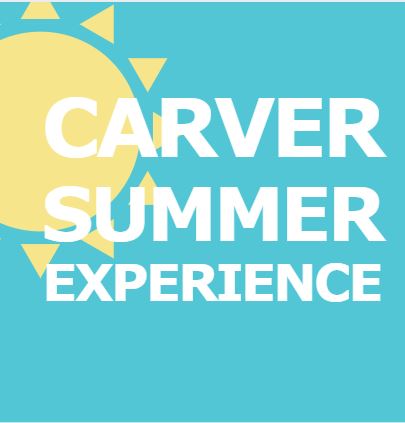 July 6 – August 12
Two Sessions
12:00 – 2:00pm
3:00 – 5:00pm
Ages 6 – 12 (Must be 6 by 7/1/21)
Registration
June 15th and 17th | 9:00am – 1:00pm
June 16th and 18th | 4:00pm – 7:00pm
Space is limited | 10 students per class | $40 Per 6-Week Session
Contact Mr. Matthew Casey, mcasey@carvercenter.org, (914) 305-6023
Summer Experience Schedule flyer
MONDAY
GRADE 1 (Must be 6 by 7/6/21) (Choose One)
MAKERSPACE/STEAM | 12:00 – 2:00 | Mr. Emilio
MAKERSPACE/STEAM | 3:00 – 5:00 | Mr. Emilio
GRADES 2 and 3 (Choose One)
PERFORMING ARTS | 12:00 – 1:30 | Ms. JB
PERFORMING ARTS | 3:00 – 4:30 | Ms. JB
GRADES 4 and 5
FUN AND GAMES | 12:00 – 2:00 | Mrs. Kelley
MIDDLE SCHOOL (Choose One)
RECREATION | 12:00 – 2:00 | Mr. Tyler
RECREATION | 3:00 – 5:00 | Mr. Tyler

TUESDAY
GRADE 1 (Must be 6 by 7/6/21) (Choose One)
PERFORMING ARTS | 12:00 – 1:30 | Ms. JB
PERFORMING ARTS | 3:00 – 4:30 | Ms. JB
GRADES 2 and 3 (Choose One)
MAKERSPACE/STEAM | 12:00 – 2:00 | Mr. Emilio
MAKERSPACE/STEAM | 3:00 – 5:00 | Mr. Emilio
GRADES 4 and 5 (Choose One)
RECREATION | 12:00 – 2:00 | Mr. Tyler
RECREATION | 3:00 – 5:00 | Mr. Tyler
MIDDLE SCHOOL
FUN AND GAMES | 12:00 – 2:00 | Mrs. Kelley
WEDNESDAY
GRADE 1 (Must be 6 by 7/6/21)
RECREATION | 12:00 – 2:00 | Mr. Tyler
GRADES 2 and 3
FUN AND GAMES | 12:00 – 2:00 | Mrs. Kelley
GRADES 4 and 5 (Choose One)
MAKERSPACE/STEAM | 12:00 – 2:00 | Mr. Emilio
MAKERSPACE/STEAM | 3:00 – 5:00 | Mr. Emilio
MIDDLE SCHOOL (Choose One)
PERFORMING ARTS | 12:00 – 2:00 | Ms. JB
PERFORMING ARTS | 3:00 – 5:00 | Ms. JB
THURSDAY
GRADE 1 (Must be 6 by 7/6/21)
FUN AND GAMES | 12:00 – 2:00 | Mrs. Kelley
GRADES 2 and 3
RECREATION | 12:00 – 2:00 | Mr. Tyler
GRADES 4 and 5 (Choose One)
PERFORMING ARTS | 12:00 – 2:00 | Ms. JB
PERFORMING ARTS | 3:00 – 5:00 | Ms. JB
MIDDLE SCHOOL (Choose One)
MAKERSPACE/STEAM | 12:00 – 2:00 | Mr. Emilio
MAKERSPACE/STEAM | 3:00 – 5:00 | Mr. Emilio
~~~~~~~~~~~~~~~~~~~~~~~~~~~~~~~~~~~~~~~~~~~~~~~~~~~~~~~~~~~~~~~
SUMMER EXPERIENCE DESCRIPTIONS
Makerspace/STEAM | Summer Creations
Let's get creative this summer and jump into the world of STEAM!
Have you ever wanted to create your own movie and explore the world of digital photography? How about channeling your inner writer through poetry and short stories? Maybe creating your own buildings, homes and park designs is something you've always dreamed of doing. Then join us at Carver this summer for all that and more as we bring your imaginations to life!
Performing Arts | "Do All 3 With Ms. JB"
This summer you will learn new skills, and even sharpen some older ones around singing, dancing, and acting. If you love the performance arts, then you'll enjoy singing contemporary choral music, as well as learning exciting and engaging choreography with opportunity for all levels of dance experience. We can't forget our theater and acting fans! Come ready to learn ways to make acting creative and fun through methods that involve, literacy, movement, and using our imaginations.
Fun and Games
Leave the stress and seriousness from the school year at the door! Participants will engage in different activities including traditional summer games, silly relay races, minute-to-win it games, field day events, and more! Puppet shows, interactive read-a-louds and fun songs and dances for younger ages. But the excitement doesn't stop there…in the class anything goes as long as it is safe and fun!
Recreation
Get active and moving this summer! Students will partake in different gym-based games, exercise, stretching, and activities that will be lively and keep them mobile. Join in on the fun!