Senior Programs
Senior Breakfast
The Senior Breakfast, run by "Friends of Carver" Volunteers, provides a warm breakfast the first Friday of each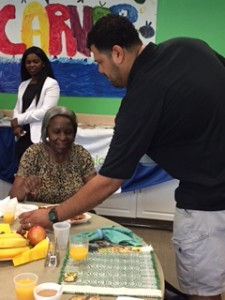 month to an average of 30 seniors. Breakfast is followed by a presentation on topics relevant to the seniors, such as health care, housing, and legal issues.
Breakfasts are tentatively scheduled for the first Friday of every month. However the schedule can change due to weather or holidays. So we recommend you call a few days prior to confirm. (914) 305-6010.
Carver's Senior program also offers a monthly delivery of three days worth of groceries to seniors who are home bound.
Use the menu on the above to navigate Carver's programs.