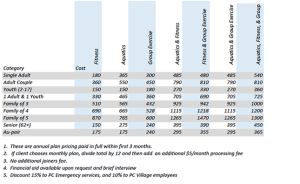 Methods of Paying:
Payment Plans
Annual
Members may pay their annual membership fee in full at time of joining or at time of renewal.
Payment is accepted via credit card, debit card, check or cash.
Any Membership paid in full more than 4 months, the $5.00/month processing fee will be waived
Monthly Bank draft, credit/debit card, checks, or cash payments accepted
Members may elect to have monthly payments automatically drafted from their bank, checking account or credit card account.
Drafts will be made monthly on the first of the month, and there is a $5.00 per transaction convenience charge
A member may cancel at any time with 30 14 days written notice, with no penalty.
Members may choose to freeze their account for a maximum of 90 days with no penalties, if they choose to keep membership after an extended period of time.
Penalties
$35 bank fee, for any returned check or Credit/debit Card
$25 fee for any lapse in membership for non-payment without prior written cancellation or freeze.
10 SWIMS punch pass card expires 3 months from date of issue
25 SWIMS punch pass card expires 6 month from date of issue
Discounts
Available for seniors (62+)
Family memberships
Emergency Services Personnel & village employees (current & retired)
Group or corporate organizations
Financial Aid available for economic hardships (please see fitness director)
Daily drop in punch pass cards (10 or 25 punch passes) available at front desk